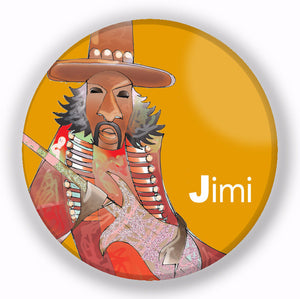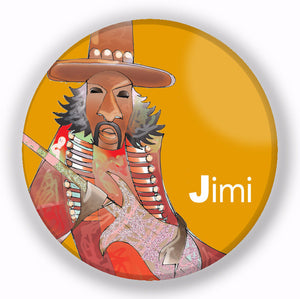 Jimi Hendrix Button
Hendrix quotes:
"When the power of love overcomes the love of power the world will know peace."
"Knowledge speaks, but wisdom listens."
Celebrate the 50th anniversary of Jonny Allen  Hendrix at the 1967 Monterey Pop Festival, where he burned his guitar on stage, also setting the world of music on fire. It was a flame that only burned for four short years, for the artist that the Rock and Roll Hall of Fame called "arguably the greatest instrumentalist in the history of rock music. 
Jimi Hendrix's fame mirrored the years of the rise of the flower generation, and when he passed away at age 28, September 18, 1970, the memory of the Summer of Love was fading away too.
To wear this button is to celebrate not only the artist, but also his time. 
Sturdy 2 1/4 inch circular metal button with pin clasp.
Original drawing by Chris Hardman, c. 2016, Antenna Theater